Capacity Academy: Get Ahead.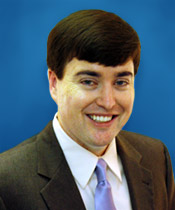 Chris Griffin, DDS
Founder of The Capacity Academy
Everyone is on a timeline whether they know it or not. No matter who we are, what we do, or how closely we pay attention to the clock, time is our ultimate currency.
The truth is, no one can ever "make more time." Most dentists have fixed, eight hour days. However, there are huge variations in the productivity people can achieve during the same eight hours.
Dr. Chris Griffin has made it his mission to study time itself and research exactly how to maximize productivity within the workday. Once he had developed and fine-tuned his strategies, he formed the Capacity Academy in 2008, a platform for sharing his effective tactics with dentists around the country.
Capacity Academy's promise is simple: You can do so much more with the time you have.
And isn't that what everyone wants? Whether it's performing more effective dentistry, spending more time with loved ones, or simply feeling relieved from the daily grind and routine, everyone wants more independence to do what they want, how they want, when they want.
Capacity Academy offers a variety of products and courses — all of which are intricately, carefully visualized and designed to provide proven, concrete instruction on exactly how you can turn your practice into a 6-figure producing machine, spend more time doing what you want to do with your life outside of the office while still improving the effectiveness and quality of your dentistry.
Talk about two for the price of one.
Capacity Academy teaches what they missed in school: how to make time work for you.
Dr. Chris Griffin: Enemy of Wasted Effort and Lost Production Everywhere
Chris Griffin, DDS, formed The Capacity Academy in 2008 to help dentists increase both their hourly production and overall clinical efficiency. He soon found that no dentist can truly flourish without the help of their trusted auxiliaries. Now, their training is an essential cog in the wheel of his style of dental coaching, along with teaching the absolute essentials of efficiency without sacrificing clinical excellence.
Dr. Griffin is also a published, avid writer. He is a columnist for "The Profitable Dentist" magazine, and publishes a monthly newsletter, "The Winning Dentist." He also penned the titles "Time Genius: Design, Achieve and Implement Any Goal Into Your Already Hectic, Crazy Life (or Business)," and "The Ultimate Secret of Success: Not Just For Dentists," co-authored by Dr. Howard Farran, Dr. Sam Puri, Dr. Bob Westerman, Dr. Woody Oakes and more. Both these titles were received with high regard and high sales within the dental community. Dr. Griffin is also the Lead Author of "More Than A Mouthful," a human interest book to the general public about dentists. Dr. Griffin is the current membership chairman of the Mississippi AGD.
Partial Listing of Previous Presentations
2013 Spring Break Seminar, Destin, FL
Operation Endo, Houston, TX
Jay Geier's Conversion and Compliance Event, Atlanta, GA
Staff On Fire Lecture, Atlanta, GA
3 Day Dentist Event, Louisville, KY
Excellence in Dentistry Spring Break 2010, Orlando, FL
Clarksville, TN Dental Society
Corinth, MS Dentist Society
Dentalology 101 Event, Dallas, TX
2012 Dentist Freedom Event, Dallas, TX
The Scheduling Institute's Assistant U, Atlanta, GA
Clinical Team Leader Event, Baltimore, MD
University of Mississippi Senior AGD Lecture, Jackson, MS